Monday is Prep Day for So Fresh So Clean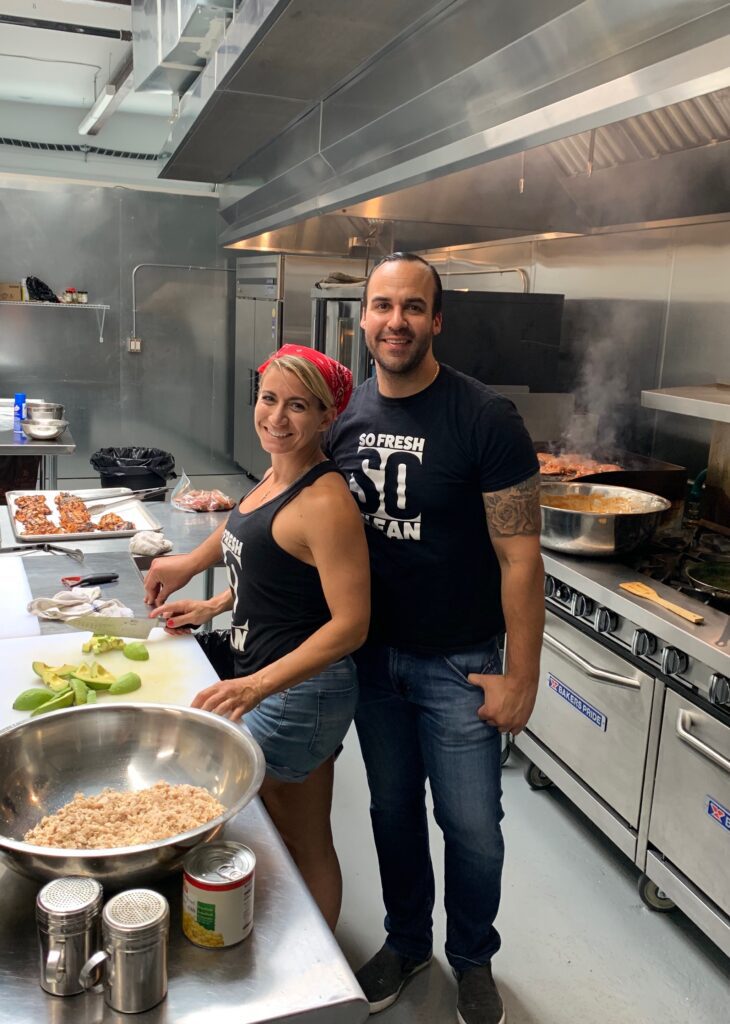 If it's Monday, there's a good chance you'll find Steven Cortopassi and Gina Hascup, the entrepreneurs behind So Fresh So Clean Meal Prep, hustling in one of our catering kitchens. Gina stands at the prep table chopping bell peppers, the slices falling into a neat green line on the cutting board. Across the way, Steven pulls marinated chicken breasts from a huge steel bowl and lays them on the grill. Working on different elements, they are in sync, focused on filling their signature black containers with the healthy meals their customers are waiting for.
As business partners, they have a lot in common – passion, drive, a commitment to fitness. They both come from big Italian families where food is front and center and have spent years in the restaurant industry. They've also both struggled with their weight and retooled the way they eat. Most important, they agree that clearly defined roles and a collaborative, energetic, no-nonsense work style is the way to go. "I see how hard of a worker she is, and she sees it in me," Steven says. "We both feel like we work well together."
Losing Weight & Gaining Knowledge
In addition to his stake in So Fresh So Clean, Steven owns three other businesses located in different parts of the state. One happens to be CKO Kickboxing in Wayne, which is where he met Gina. She'd just had her second son when she walked through the door armed with fitness goals and lots of motivation.
After a year and a half of slow and steady progress, Gina was down 70 pounds and had become an instructor at CKO. Now, she manages the gym, runs So Fresh So Clean with Steven, and last year trained for a fitness show. "Once you change that mindset and really start to enjoy what you're eating – and it's not junk – it's easy to keep that going," she says.
Friends, family and gym members noticed her transformation. "I would have people asking all the time 'Oh my goodness what are you doing? What are you eating?'" Gina says. "It was a lot of hard work. I really had to dial-in on what I was doing and what I was eating. That's how it happened." And that's what pushed her and Steven to start cooking for others.
In the beginning, there was a ton of research and collaboration to create the menu and articulate their business plan. They brainstormed ways to lighten up family recipes and other foods they love. "I came up with a lot of recipes for my favorite things – things I 'leaned out' and made healthy," Gina says. She bounced ideas off Steven, and he did the same. "That was a huge thing for getting the company started."
Partners Are for Dancing (And Maybe a Meal Prep Business) While Steven had been looking for someone to be his eyes and ears at the gym when he was on the road, starting a business with Gina took him by surprise. "It's funny," he says. "As ironic as it sounds, I always say 'partners are for dancing.' Partnerships are very tough, and they can be extremely difficult. Then once we started talking about this idea, it just made sense."
How do they make it work? Shared values, boundaries and mutual respect. "You both need specific roles and you don't cross the line," Steven explains. "The second you start telling the other person how to do their job and they start telling you what to do, you start second guessing each other and your goose is cooked. You have to believe in each other."
Turning Fitness Journeys into a Culinary Business
While it's Gina's fitness journey that inspired the business, Steven had gone through a similar transformation. "I was always active," he says. "I would work out, but I never understood why I had big arms and big shoulders, but also a big belly." He started to portion his food and read labels and began to understand hidden sugars and just what type of whole grains were being marketed on the front of packaged food. "I never felt really fit. Then I finally educated myself and I learned how to eat properly." Now, he and Gina share this knowledge through their food.
Keep it Simple & Fun, Eat Real Food
While nutrition is important, their approach is simple and real. "We try to keep it light and fun. It doesn't have to be super-serious," Steven says. Their brand reflects this sentiment. "There's no crazy story behind So Fresh So Clean. It's just a strong solid name."
Gina, of course, agrees. "Straight-forward," she adds, noting that some of their product names are a play on words with pop-culture references. Master Gee is a bright bottle of green juice and Gimme a Beet a bold crimson. Their tagline, Preppin' Ain't Easy, is not only a nod to hip hop, it's a universal truth for their customers who range from fitness models who compete onstage to busy families short on time.
Many are parents working long hours. "They get home from work at 7:00pm or 7:30pm, the kids are doing homework, after everyone's been running around, the last thing anybody wants to do is pull out a frying pan and start cooking," Steven says, "so they'll wind up ordering fast food or making some other poor eating decision." So Fresh So Clean's dinners break that habit with healthy meals that need just a few minutes to heat up.
Yes, They Make Healthy Sweets Too
Steven and Gina have treats covered too. If customers want to stray a little on the weekend, they can order keto brownies or a lightened-up chocolate chip cookie dough that tastes just like the stuff we all stole from the bowl as kids. "With us, you have peace of mind knowing that you're eating properly," Steven says.
Advice? Take Pride & Do Your Best
Advice for other food entrepreneurs? Push for quality and take pride in what you do. Steven and Gina rely on positive reviews and word of mouth, so they make sure they do their best. "We take a lot of pride in the product that we put out, so when people appreciate it, it really hits home," Steven says. "Quality control is very important. Every stitch of food that comes out of the kitchen and goes into a container, we've approved. We're meticulous, but people appreciate the level of attention that we give to our products."
What's Next for So Fresh So Clean?
"Our plan is to keep expanding, pumping the volume up and keep doing what we're doing," Steven says. Both say growing organically is important, which means being true to themselves. Case in point is a recent video where Gina accidentally flipped a shrimp out of the bowl, but they used it anyway. "It should be fun," Steven says. "It's not rocket science – we're just helping people eat better."
Learn more about So Fresh So Clean Meal Prep on their website, Instagram or Facebook.